Welcome to Marble Shop Please enjoy our large range of floor tiles and remember if you have any tile related questions please telephone or send us an email
If you are in the London area you are more than welcome to visit our tile warehouse. See about us.
Alternatively should you require tile sample click here, two small 10 cm x10 cm samples for no charge
Mayfair is the UK's leading manufacturer and retailer of natural Marble & Limestone fireplaces.
Our materials are from the best sources around the world and our fire surrounds are produced and manufactured in our own factories.
The workmanship of our products is of the highest standard. All fireplaces are individually hand crafted by experienced stone masons and award winning craftsman. We can offer deliveries to the US and Europe.
Quartz tiles
Quartz tiles | Quartz tile | Quartz flooring | Quartz floor tiles
Quartz Tiles are the new vogue in interior design, bringing starburst reflective mirror particles to present a unique finish to any room. If you are looking to give your project an x factor then look no further than quartz tiles for quality that is above and beyond the rest.
Kitchens in London - Kitchens company in South London with a really excellent and vast range of high-quality kitchens. We supply tiles to them and they supply great kitchens to our clients. We highly recommend them
Quartz is an engineered product and is not a natural stone. Quartz ( also known as composite ) is manufactured from quartz sand, resin and mirror flecks, this process allows us to create unique and unusual colours with a mirror like fleck that produces the reflective shine. The higher the quartz content the better quality the tiles, thus providing better resistance and more durability. Quartz tiles are 95% quartz bonded with resins creating an engineered quartz tile.

Quartz tiles are being used more and more in residential projects by our clients because of their aesthetic appeal in creating original interior design. Commercial clients use quartz floor tiles and wall tiles in high profile areas to provide a durable and high quality finish.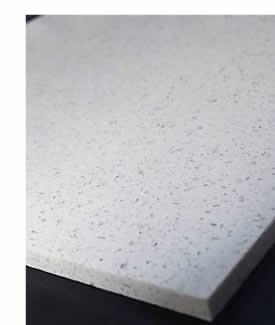 Easy to maintain, the inherent strength in a quartz tile makes it a difficult surface to chip or crack in anyway, so it will preserve its shiny and new appearance even after extreme wear and tear.
Similar to polished granite, quartz is not only extremely easy to clean, but the style and patterns within it prevents areas from showing up too much surface dirt, which makes it perfect for worktops in kitchens.
Quartz tiles are very popular as bathroom tiles laid as a floor tile or a wall tile in various sizes, many clients use black quartz tiles as an alternative to black granite tiles as floor tiles in their bathrooms because of the mirror particle sparkle creating a starburst original design.

Quartz tiles can be used as floor tiles or wall tiles and are available in a range of sizes from mosaic tiles to 600 mm x 600 mm, 600mm x 300 mm, 400mm x 400mm and 300mm x 300mm and a wide range of colours including reds, blues, pinks, greys, blacks and whites.
quartz tiles suppliers | stone tiles | white quartz tiles | starburst floor tiles | black quartz floor tiles | quartz wall tiles | quartz slabs | artificial quartz stone

The showroom is the heart of the business and is open 6 days a week, Monday to Saturday 9am to 6pm.

Since 2014 we have stocked over 15000 m2 of Travertine, Granite, Slate, Quartz, Marble ,Sandstone , Quartzite, Onyx, Shop & Limestone tiles, that's enough to cover 4 acres!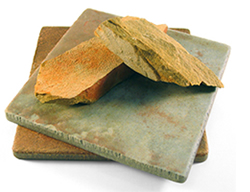 Marble Shop (UK) are dedicated suppliers of Natural Stone materials for the home and garden. We have developed excellent links with our partners around the world by visiting quarries and processing facilities, to ensure YOU receive the best quality Natural Stone tile possible.
Tile Delivery services throughout the UK, and Europe. Next day, Timed & Saturday delivery is available.
tile delivery
Tile Samples: Stone is a natural product, it can vary considerably, we advice customers to view as much stone as possible. IF you are unable to visit our tile warehouse in Plumpton Green East Sussex we offer a quick, nationwide sample service. marble tile samples fitted kitchens